YOSSHS - Anniversary Bus Trip to Philadelphia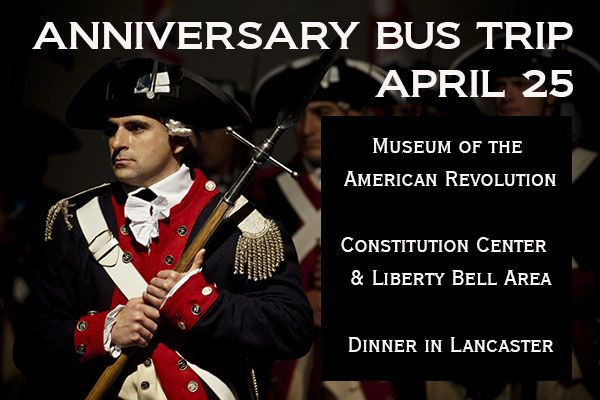 Join our friends at the Ye Olde Sulphur Spa Historical Society (YOSSHS):
Mark your calendars for April 25 and invite your family and friends to join us for a bus trip to Philadelphia.
The trip package will include admission to the Museum of the American Revolution (Museum info: https://www.amrevmuseum.org) a $12 food voucher for lunch at the museum's Cross Keys Café (click to view café menu), time at the Constitution Center/Liberty Bell area and round-trip transportation. The cost of the trip is $80.
There are 50 seats available and we hope to fill all of them in honor of our 50th anniversary. Reservations can be made by calling Donna King at 717-528-8691. Please help us get the word out for this fun day in Philly!
The coach bus will depart from Wolf's Bus Lines at 7:30 a.m., with anticipated arrival at the Museum of the American Revolution at 10:00 a.m.. At 1:00 p.m., the bus will transport us to the Constitution Center (Museum info: https://constitutioncenter.org) for time on your own. We will depart at 4:30 p.m. and stop in the Lancaster area for dinner (at your own cost) around 6:00 p.m. We hope to return to York Springs around 8:30 p.m.