Hills, Ridges, Roads, and Farms: An All-New Gettysburg Hike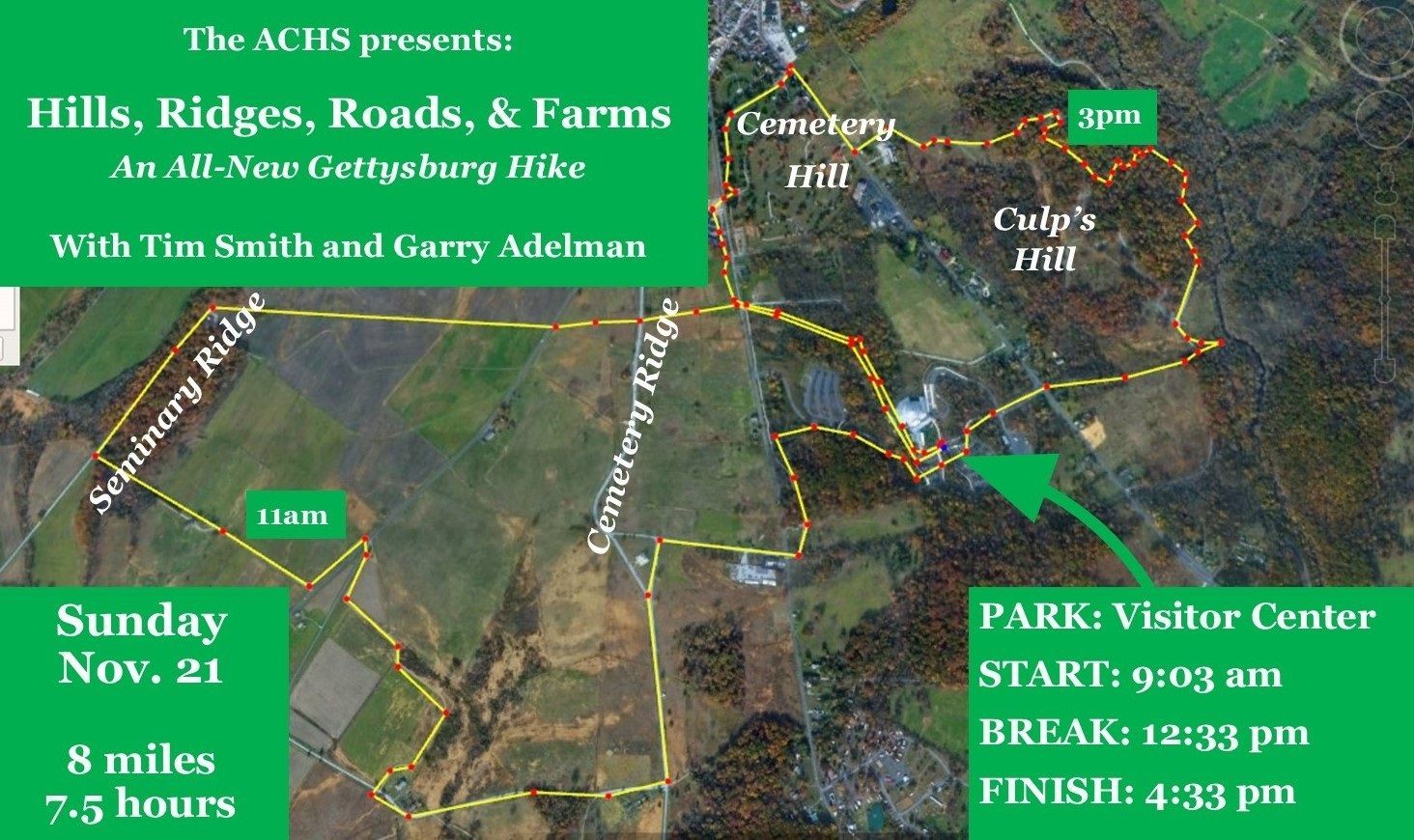 Cemetery Ridge. Seminary Ridge. Culp's Hill. Cemetery Hill.
These now-famous features hosted some of the most ferocious and critical fighting in the Battle of Gettysburg, and saw movements or combat on all three days of the conflict. But long before the soldiers arrived, Gettysburg was a place where people had been living peacefully for decades. The battle forever changed this community as farmers' fields became burial grounds, and years-worth of treasure and work vanished in an instant. Gettysburg was destined to become a tourist town, with every inch of the battlefield explored, and much of it photographed. Join Historians and Licensed Battlefield Guides Tim Smith and Garry Adelman for a lively and fast-paced tour to some of Gettysburg's most storied places with photos, fighting and folklore throughout.
The event will occur rain, shine, or snow. Please be prepared in terms of footwear and raingear, if needed. Some have found a portable stool to be helpful during stops. This eight-mile hike can only be enjoyed on foot. Expect rugged terrain but on established trails of grass, mulch or pavement. We will start, break for (BYO) lunch, and finish at the Museum and Visitor Center.
Tickets are $25 for current ACHS members and $40 for non-members. If you would like to become an ACHS member and take advantage of the lower price, please visit https://www.achs-pa.org/join-us/joinus.html to join today! If you are unsure of your membership status, please email us at info@achs-pa.org.
No refunds accepted unless there is a cancellation or rescheduling by ACHS.
UPDATE: As of 7/28 at 7PM, the program is sold out, but please consider adding your name to the wait list: https://docs.google.com/forms/d/e/1FAIpQLSfu5594qlYLqC-bQJ2YOyyr0LFNgdjeHnMQAQd2uvMUaCM9zQ/viewform