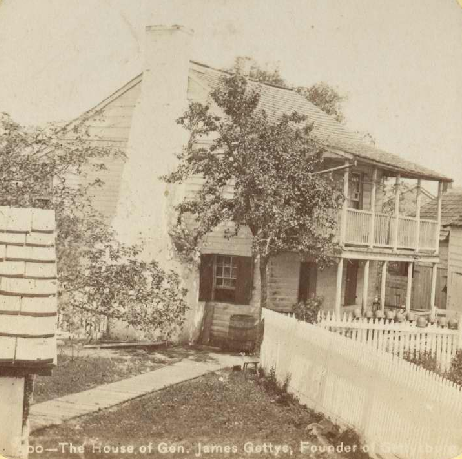 On a brisk November morning, several ACHS Volunteers gathered outside the Wolf House, led by Robert Scappini, to lift the dusty lids of time off some 30 long-stored boxes of dirty relics with the goal of discovering, cleaning and processing for posterity the treasures therein!  
We credit the Gettys family – specifically Samuel and his son, James with the birth of our town's namesake – Gettysburg.  Samuel, an early tavern owner had his establishment located right off the center of town on what would become York Street.   Like all early local taverns, The Getty's Tavern became the nucleus of information, gossip, politics and opinions of not only the town folks but also  serving the needs of increasing numbers of traveling pioneers and stage patrons offering a place to sleep, a meal, drink and entertainment.  Getty's Tavern thrived until it burned down in the 1880's.  Over the ensuing decades the site was home to diverse uses, concluding with it becoming a forgotten, trash field. 
A hundred years after the demise of the Getty's Tavern, the town of Gettysburg ironically identified this same site as the ideal place to build a multi-level modern parking garage to address the needs of the still growing town and its many businesses, citizens and visitors.  With site work slated to began with heavy earthmoving machines clearing and leveling the ground, a small group of forward thinkers realized the potential historic artifact opportunities that lie under this construction site. 
Not having the luxury of time to pursue the full range of mapping, testing and fieldwork that goes into a proper archaeological dig, the marshaled team rushed in and scooped up all they could of the ground and its contents.  Not bothering to sort, clean or examine their findings they scurried to get in and get out with as much as they could before the roar of construction drove them away – forever.  Their "treasures" were boxed. 
Those boxes were stored away and brought out into sunlight for the first time in November.  Like unearthing time capsules, each box was met with great attention and curiosity.   The contents have all been cleaned, processed and are in the final steps of being cataloged for future referral.  Some of the highlights include a child's leather brogan, an early Pennsylvania license plate, a single stirrup, a union minie ball, numerous shards of redware and ceramic plates and more.  Check back with us for more detail and your chance to feel the same excitement of discovering what's right beneath our feet – everyday!  
---
---