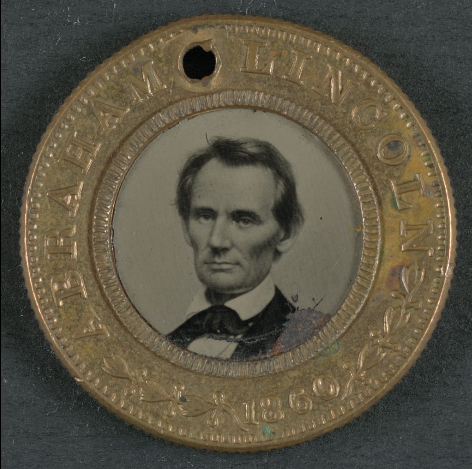 With the voting year quickly approaching and a deepening schism of political beliefs, it is important to remember that our nation was at a deeper divide in 1860. The election of 1860 was of the utmost significance because it determined whether a pro-slavery or an anti-slavery president would come to power, and in turn, provoked a civil war. Even in Adams County the election had its uncomfortable moments.  
The candidate lineup for the 1860 election consisted of Abraham Lincoln, John C. Breckinridge, John Bell, and Steven A. Douglas. In Pennsylvania, the Republicans were strongly unified behind their candidate, Abraham Lincoln.  The Democrats split their support between Breckinridge and Douglas. In an effort to unify Democrats in Pennsylvania , supporters of John C. Fremont and Millard Fillmore formed  the Democratic Union Party which ultimately took votes from both Breckinridge and Douglas.1 In Adams County the Democratic Union was able to get 2,644 votes, but this was not sufficient enough to beat the Republican party which was able to reel in 2,724 votes.2  
Political demonstrations are not new.  They have always created support and opposition during political contests.  Male groups in the nineteenth century loved uniforms and loved to march.  In 1860 when the Wide-Awakes, a new national group which supported Lincoln's candidacy was formed, it is no surprise that they wore uniforms for their demonstrations.  They took their name from the symbol of the fully opened eye on their banners.  Wearing their uniforms and carrying torches in parade, they made an eye-catching sight and encouraged the Republican vote. Their silent, night marches, however, did not please everyone.  
In Adams County, the founding group of the local Wide-Awakes included David McConaughy, Charles and David Buehler, and William T. King along with 21 others.  In the October 3rd issue of the Compiler, a witness to one of these parades reported at least 80 to 100 persons involved, with perhaps 1/3 from Gettysburg.  The total number probably included participants, protesters, and bystanders.  Views about the Wide-Awakes differed.  Robert G. Harper, of the Sentinel, published the constitution of the "Republican Wide-Awakes of Gettysburg" to prove that there was nothing secretive or harmful about them.3  In the Compiler, the editor described them as a disgrace to their party. 
Even after the election, political disagreement continued. It was said that the German vote helped Lincoln win the election.  In Gettysburg, six percent of the population in 1860 was German.4 Prior to 1860, Germans voted Democratic against the Know-Nothings of the 1850's.  The Know Nothings wanted to exclude the foreign born from voting. But, in the election of 1860, the majority of German voters went ahead and voted for Lincoln. This caused a split in the  German community which led to a bloody brawl. According to J. Howard Wert, the German Democrats wanted to have a heart to heart with John Henning, a German Republican, at his Saloon on High Street, there they encountered Peter Thorn, another voter for Lincoln. Wert states, "There were a number of men strewn around on the floor. They were not in graceful positions…".5 This was not the end of the fight for Henning wished to "heave them out of the yard...", and so Henning and Thorn created a sort of assembly line to accomplish this task. 6  John T. McIlhenny of the Star and Banner stated that, "It was a bloody affair… Quite a number of persons were knocked down with slung-shots and clubs and were badly injured".7   
In conclusion, the deep divide in the country in 1860 complicated the presidential election.  Evidence of that divide was present even in Adams County.  Thankfully, today men are not being thrown from pub windows, nor are masses of men carrying torches silently through the town.
---
Bibliography
1 Charles H. Glatfelter. "Adams County Votes for President 1804-2008". Adams County Historical Society, vol. 15. 2009. p. 38.
2 Ibid. p. 39.
3 Jon Grinspan. Young Men for War: The Wide Awakes and Lincoln's 1860 Presidential Campaign. (Journal of American History, 2009), vol. 96.
4 Timothy Smith. "Chapter Two: Politics and Secession". p. 42.
5 Wert, "Old Time Notes of Adams County" Star and Sentinel, March 20 th , 1907.
6 Ibid.
7 John T. McIlhenny. "Election day in Gettysburg" Star and Banner, November 9 th , 1860.
Image credit: Abraham Lincoln-Hannibal Hamlin campaign button for presidential election. , 1860. Photograph. https://www.loc.gov/item/2011647968/.
---
About the author
Cole Wanner is a philosophy and history major at Gettysburg College. This article was written as part of his fall 2019 internship at the Adams County Historical Society.
---