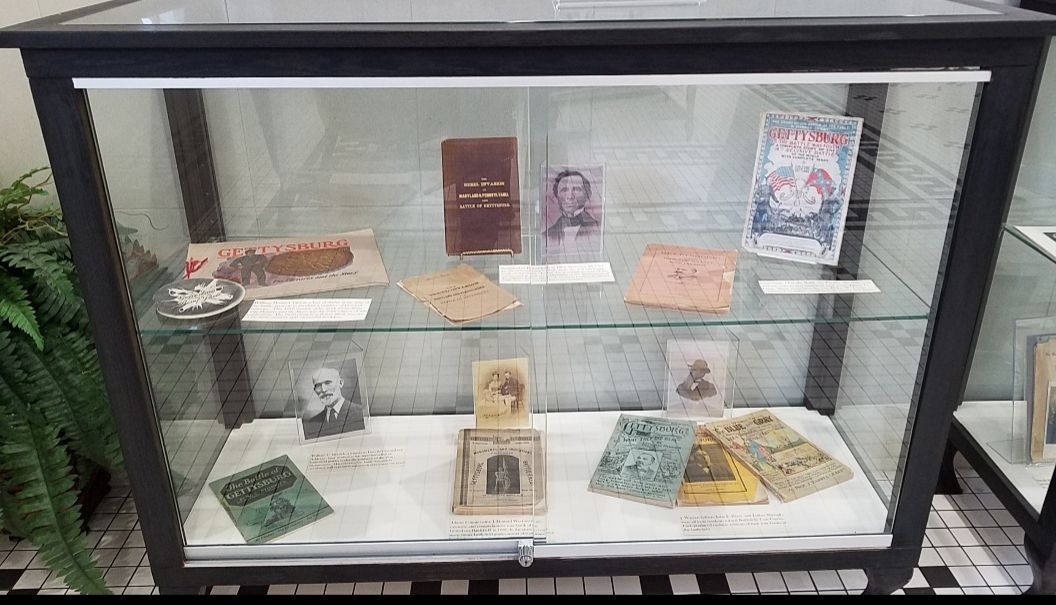 The Adams County Historical Society's "Published in Adams County" exhibit is currently displayed in the lobby of the ACNB Bank located at the Lincoln Square branch in downtown Gettysburg. The temporary exhibit is a sampling of work by local authors and publishers of Adams County that spans from the 1800's to the present day. 
Since the early days of the iron printing press, many Adams County residents wrote both fiction and nonfiction work published in newspapers, pamphlets and books covering a wide range of subjects. Many such works were assembled by publishing companies in Adams County.
Examples of items in the exhibit include a rare 1889 copy of Tillie Pierce Alleman's book, At Gettysburg, or what a Girl Saw and Heard of the Battle; noted photographer and life-long Gettysburg resident William Howard Tipton's 1913 work, Gettysburg: The Pictures and the Story; and Civil War veteran James T. Long's Gettysburg: How the Battle was Fought. 
An exhibit about Adams County authors would not be complete without work from its most prolific writer—Elsie Singmaster. Elsie was an American author who lived much of her adult life in Gettysburg. She was born in Schuylkill, Pennsylvania in 1879, and attended both Cornell University and Radcliffe College in the early 20th century. A writer of both fiction and nonfiction, Elsie wrote scores of articles, short stories, and books during her lifetime. Her first published work was a short story published in the November 1905 issue of Scribner's Magazine.
Often Elsie would write her fictional stories about actual events or people, such as the story of "Old Flo" based on Keziah Cuff, a matriarch of Gettysburg's African American community. While Elsie was developing the character of "Old Flo," she gained inspiration from a doll that bore Cuff's likeness. The doll is now on display as part of the new ACHS exhibit. 
Also on display is Elsie Singmaster's fictional work Mary Bowman, a story about the Battle of Gettysburg and its impact on local civilians. Former President Theodore Roosevelt was so inspired by her tale that he wrote her a personal note of thanks. The original letter can be viewed at the exhibit.
Present day Adams County authors are also part of the exhibit. Susan Colestock Hill, a graduate of the Lutheran Theological Seminary, is represented with her book, Heart Language: Elsie Singmaster and Her Pennsylvania German Writing.
Like other well-suited partnerships, authors need publishers to share their work with others, and Adams County publishers are presented in the exhibit as well. They include the White Squaw Press in Orrtanna, Henry Conrad Neinstadt of Gettysburg, who produced work in both German and English, Joseph S. Gitt of Hanover, and Robert Harper, who started the Adams Sentinel newspaper. 
We hope you'll stop by and see first-hand the accomplishments of our ancestors from Adams County!
The Adams County Historical Society currently preserves over one million historic items of local and national significance and relies on your support to continue protecting our shared history. We thank ACNB Bank for their generous sponsorship and encourage you to become an ACHS member today!
---
Author Bio:
Maria Lynn is the Assistant Collections Manager at the Adams County Historical Society.