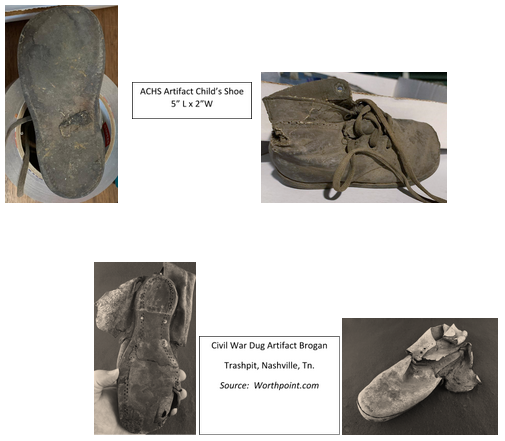 In the first article (see Gettys' Tavern Archaeological Dig -January 22, 2020) the origin of this project was identified and it was reported that we were well on our way in the process of cleaning, sorting, processing and cataloging the artifacts previously collected in the dig.  To date, over 700 "artifacts" have been enthusiastically and tenderly handled, cleaned, identified and catalogued. 
The cataloging includes classifying each and every item, shard of glass, fragment of pottery and ceramic, scrap of metal, section of bone or bit of "thing" that defied positive identification into a dual matrix.  Each artifact was sorted into one of eight Material Categories – Glass, Ceramic/Porcelain/Other Stoneware, Redware, Metal, Wood, Leather, Bone or Other. (It was obvious early on, that there were many pieces of broken Redware.  Because of the importance of Redware and its uniqueness to Southeastern Pennsylvania, it was decided to give it its own category.) Once each piece was recorded in its appropriate Material Category, the quantity, color, interior or exterior glazing, size, identifiable patterns and presence of any unique decoration, maker's marks or backstamps were also noted – enabling further research.
The next matrix included placing each individual piece into one of seven Functional Categories.  A decision was made as to whether each artifact most likely fell into the category of Architectural, Personal, Kitchen/Tavern, Arms/Weapons/Military, Activities, Tools or Other.
Once all the artifact data is plotted, a clear and objective picture emerges of which functions were most represented by our artifacts and what were the dominate materials.  Thus far, the Kitchen/Tavern category is leading with 76.86% of the total, while Architectural, is in second place with 15.15%. Not surprising, the Redware Material Category comprises 43.62% while the Glass Material Category represents 20.90% of the total Material Categories.
Last month we noted that one of the more interesting initial items uncovered was a child's shoe.  To most, this worn, dirty, old leather, beat-up shoe showing a good amount of erosion would be just that!  But to historians, such an artifact is an opportunity to scrutinize, research, surmise when necessary and finally to tell a story.
Brogans were a type of gentlemen's shoe, with a long history.  The name is thought to have originated from the word "brogues" which was first named in Scotland during the 1500's.  (Ironically, Samuel Gettys was of Scotch Irish origin, immigrating to America in 1740.) Brogues shoes were simple, short boots, tied down with a strip of leather and with holes along the sides to enable water to drain as men worked in the sloshy, wet Scottish bog land.   Centuries later, including during the American Civil War, Brogan-style shoes became standard issue to soldiers. Supposedly, these square toed, stiff leather- laced, half boots offered greater support to the ankle – especially for infantry troops on long overland marches. In reality, there are many confirmed accounts where soldiers, both federal and confederate – (when they were lucky enough to even have shoes), suffered immensely.  Complaints included whole foot, bleeding blisters and bone aching pain all because their shoes were neither comfortable nor protective against challenging weather and terrain.
Early male children's shoes typically mimicked the general style and pattern of their fathers' shoes.  Look at the similarities between our small artifact Brogan-like shoe (square toe box, leather half-boot above the ankle, 5 eyelets with holes for laces and stitched soles) and an actual dug Civil War Soldier's Brogan in the above photos.
How impressive would it be to tie our artifact shoe to the possibility it was a Civil War, Battle of Gettysburg surviving "witness" artifact - having been tucked away safely inside one of the Gettys' Tavern walls or stuffed into an opening behind the fireplace.  Secret shoe-stuffing was known to have occurred worldwide over the centuries as this was believed to cast off evil spirits. Shoes have long been associated with good luck and being able to fool the spirits who might wish to do harm within. 
But, alas!  Our child's shoe is likely dated to the late 1800's or early 1900's - based on the heel and other construction details.  Considering its small size, it would have fit a juvenile boy between 2 and 3 years of age. Imagine, a young Gettysburg lad, let's call him "Charlie" who would have first learned to walk and run around in his little leather shoes.  What happened to the other twin shoe, no one knows. Toddlers' feet typically grow quickly and it's not unusual to grow into the next size every 3-4 months. Obviously, our little artifact shoe has seen substantial wear as evidenced by the sole alone.  "Charlie" very likely had younger brothers and his wise, frugal mother, would have saved and handed down "Charlies" shoes to his younger brothers or passed them along to his little cousins.
Who knows what would have happened had "Charlies" little artifact shoe been of a slightly older vintage and had actually been safely secured well within a wall of the Gettys' Tavern – foiling any brewing sinister spirits.  Just perhaps there never would have been the devastating Gettys' Tavern fire of the 1880's!