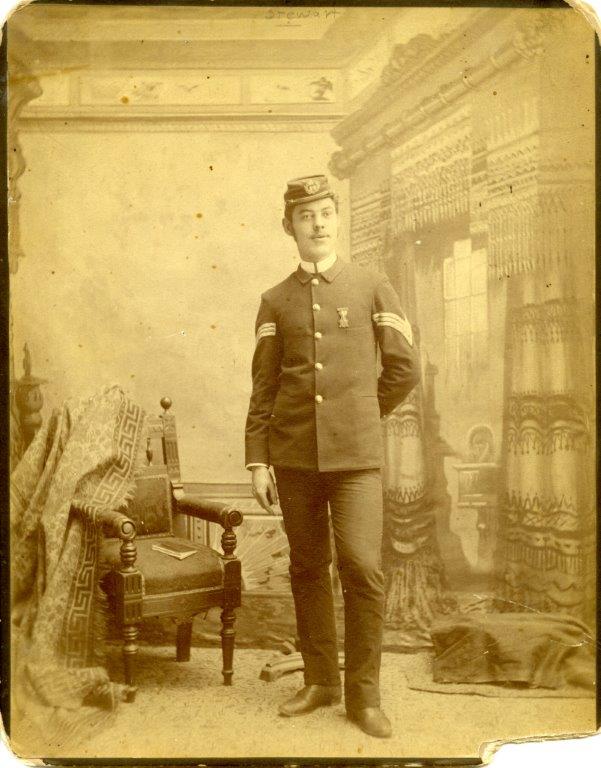 Everyone had an opinion of Dr. Henry Stewart, brilliant, cranky, eccentric, opinionated, well-read, caring, hot tempered.  His accomplishments included medical doctor, pharmacists, chemist, forensic pathologist, photographer, electrical engineer, draftsman, inventor, mechanic, welder, machinist, historian.  Whatever the description he left an indelible mark on the town of Gettysburg. 
  Henry Stewart was a child of the July battle that swept through the town.  His mother Sallie Mae Meyers, found herself caring for the wounded and mangled soldiers that made their way to her doorstep.  One young Sargent from the 149th PA Volunteers lay dying and Sallie stayed with him offering what comfort she could.  Afterwards she sent a heartfelt letter to his family.   The family came to claim the body and speak to the young woman who helped.  The brother continued to correspond and eventually they fell in love and married.  They settled in Philadelphia expecting their first child.  Sadly, the father died before the child was born and Sallie moved back to Gettysburg.   
  Young Henry was raised by his mother to be independent and impressed upon him the need to be well educated.  His room was filled with volumes on history, mathematics, classical literature,  philosophy, and natural science.  Still in his teens he was hired by the architectural firm of M.E. Stallsmith as a draftsman providing designs for homes and businesses in Gettysburg.  Early enrollment in Gettysburg College found the precocious boy breezing through the curriculum at a record pace.  However an incident in the dormitory found Henry up on disciplinary charges for bowling in the hallway with a cannon ball. 
  In 1886 Henry Stewart purchased a Columbia High Wheeler, known as a bone shaker, and built a portable folding camera.  His journey would take him from Gettysburg to Lancaster and Baltimore, photographing country scenes.   Graduating from Gettysburg College in 1889 he married Jennie Battin and enrolled in the University of Penn. School of Medicine.  He established his family practice in Gettysburg in 1892 on Baltimore St.  
  Restless by nature Dr. Stewart continued to expand his repertoire of expertise.  He was hired by his alma mater as a chemistry instructor and became a pharmacist for his patients.  He began to photograph surgical procedures keeping detailed notebooks that would become medical textbooks.  Several insurance companies hired him as a medical representative which led to Dr. Stewart becoming the first forensic pathologist and toxicologist recognized by the Pennsylvania court system. Eventually he would become the Adams County coroner, physician to the almshouse and insane asylum,  president of the PA Medical Society, and secretary of the Adams County Board of Health.  In 1902 Stewart made a study of the recent applications of x-rays and built the first working model of an x-ray machine, which is currently on display at the University of PA.  During an outbreak of a baffling disease which was afflicting cattle in local farms, Stewart put together a research team  that identified the contagion.  His self study of electricity was applied to his redesign of the electric trolley power generating system, calculating and detailing the length of wire required to produce more voltage. This also led him to build the first wireless radio transmitter in 1902 so he could communicate with his cousin in Lancaster.   His residence on Baltimore street would grow to include a forge, lathe, printing press, a small observatory, and chemical laboratory.  When not attending patients he would be seen racing down Baltimore to join the volunteer fire company as first assistant engineer on the General Meade. The National Weather Service came to rely on his daily observations for forecasting weather in the Middle Atlantic States. 
  A true country doctor, Stewart made his rounds in a horse and buggy until he spotted a Studebaker automobile.  Studying the manuals Stewart upgraded the entire electrical, suspension, and steering mechanism, forging and grinding his own precision parts.  Every car he owned after that was upgraded and serviced in his own garage.  
   Henry Stewart was discharged from the Pennsylvania National Guard in 1893, but was in line to volunteer for duty during the Spanish American War, World War One, and World War Two, and was turned down each time.  His fiery letters to the  War Department, or for that matter anyone that crossed his path became a trademark of Stewart's.  The Adams County Historical Society, which houses his papers, are filled with examples of his written wrath against Westinghouse, Scientific American, General Electric,  General Motors, and DuPont and the U.S. Government.  In one testy exchange with a German physicist, Stewart accurately pointed out a flaw in his calculations for gaseous diffusion.   A meticulous record keeper, Stewart filled volumes of ledgers, notebooks, and journals as well as holding onto every piece of correspondence he ever received.   
  Passionate about history, Stewart conducted a survey of Revolutionary and Civil War veterans graves. When he discovered several veterans without  headstones, Stewart designed and paid for them to be placed.  He wrote a weekly history column "Seventy Years in Gettysburg" providing details of life from a bygone era.  His basement and attic became filled with artifacts that would be the foundation of the collection now held by the Adams County Historical Society. 
  Dr. Henry Stewart passed away on March 22, 1956 at the age of 88.  According to his last will and testament he declared that he "wished to be buried at Evergreen Cemetery along the edge with a headstone stating his name, birth and death date...and that's all" and specifically names the undertaker as he didn't like the other one.  
  As the poet said, "Men hate to be misunderstood, and understood makes them furious."  Dr. Henry Stewart lived his life in the cold light of reason, his personal accomplishments were but by products of a life in search of knowledge. 
---
Bob Scappini will be presenting our March program on the life of Dr. Henry Stewart. The program is free and open to the public. Seating is limited, so please reserve your tickets now!
---