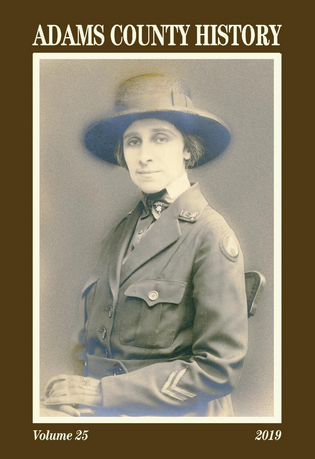 ACHS is continuing its commemoration of the 100th anniversary of the First World War with publication of the latest issue of Adams County History. Volume 25 (2019) explores the role of three Adams County residents in the Great War and provides some local context for world events 100 years ago. Esther Fredericka Tipton (1879-1958) is featured on the cover of the Journal. A combat nurse from Adams County, she saw duty at an evacuation hospital for 14 months and was the subject of an article in the Gettysburg Times, which is reprinted on the opening page of the Journal.
The article, "Bringing to Life the Grandfather I Never Knew," is by ACHS member Valerie J. Young. This is an insightful and personal journal of her exploration into the life of her grandfather, Chester Allen Bower of New Oxford, and his experiences before, during, and after the war. Valerie shares her three-year pilgrimage--in conducting extensive research and in battlefield touring–to discover the details of her maternal grandfather's experiences during the Meuse-Argonne Offensive, and how those experiences affected his post-war life. Valerie's previous essay about the World War I Gold Star Soldiers of Adams County was published in Volume 24 of Adams County History.
Veteran Grover C. Maus of Littlestown offers us an eyewitness account of the 1918 Meuse-Argonne Offensive. During his time in France, several of his letters home were reprinted in Adams County newspapers. This article is from Adams County in the World War (1921) by Percy Eichelberger and Paul Foulk.
Volume 25 of Adams County History is now available for purchase on Amazon by clicking HERE.

We hope you will enjoy reading this new volume, and send copies to your friends and family, too! Copies are also available beginning on March 1 at the Adams County Historical Society. Previous issues of Adams County History are available for purchase through our online store.