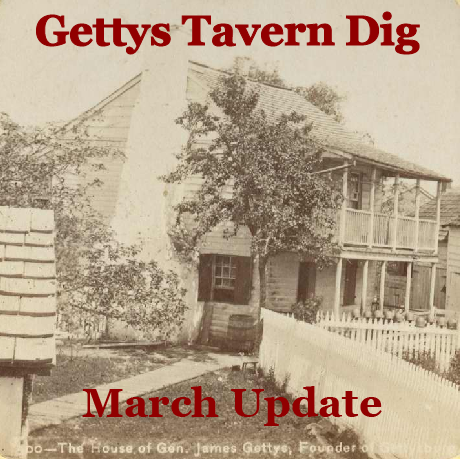 March is full of "lucky charms." It's the month that traditionally celebrates St. Patrick's Day around the world, having special meaning for those of Irish descent. Samuel Gettys, the subject of the Gettys Tavern Dig, is thought to have been born in 1725, in Randalstown, County Antrim, Northern Ireland and to have immigrated to Pennsylvania in 1748. Surely,
a good many cups of cheer were raised to a hearty "Slainte" in Samuel's tavern! Over the years, some 4.8 million Irish have made the voyage to America, fueled by fears of the past and hopes for the future. Today, nation-wide, there are approximately 33 million Irish descendants. Perhaps living in my own 18 th century tavern/dwelling house coupled with
Irish ancestry, have spiritually coalesced and led to my involvement in this remarkable project and an opportunity to see it revitalized!
This March was blessed with additional "lucky charms" in a meaningful historic way – let me explain. When this blog began, very little to no information was available about who was involved in this dig and its archeological authenticity. This is understandable, as the dig occurred 30 years ago! Over such a duration, key administrators and officials change,
retire and otherwise move on. The Adams County Historical Society abruptly learned in 2011 they had to physically relocate their offices, files and holdings to temporary quarters – moving much of their archival materials into storage. New projects, developments, priorities and players followed.
The opening January blog outlined the collective knowledge we had about this project – at the time. The blog itself proved to be an important and major "lucky charm." The power of the internet is vast in its speed and reach to multitudes of historically interested persons. At Adams County Historical Society we have always encouraged and welcomed interaction and feedback. That's often how we expand our own knowledge and be in a position, in turn, of sharing and passing it along to our members, patrons and colleagues. And, that's exactly what happened! We had the fortunate experience of hearing from a prior principal local historian who had since moved from the state. I learned from Dr. Walter Powell that he had organized the "dig" and acted as project administrator on behalf of the Borough of Gettysburg in advance of their new 2-story parking deck construction. Dr. Powell graciously suggested a lead on the source of critical missing information!
Exploring one lead, lead me to another and yet another. As a result, I have received valuable data from the Pennsylvania Historical Museum Commission, learned more about the Borough of Gettysburg's sponsorship, obtained extensive early family and Adams County research and had multiple productive communications with Benjamin Fischler, the chief archeologist of the 1990 dig. The bottom line is we've learned a great deal of additional information that will
bring this entire project into clearer focus.
The shiny gold "lucky charm" is that we now know there are at least two additional caches of gathered/ dug artifacts and pictures of what the historians agree was the site and a portion of the stone foundation and steps into the cellar of the original Samuel Gettys two-story log tavern! How exciting! Upcoming in the months ahead, we will be sharing more details of these "Luck of the Irish" findings and artifacts. Stay tuned and stay safe!