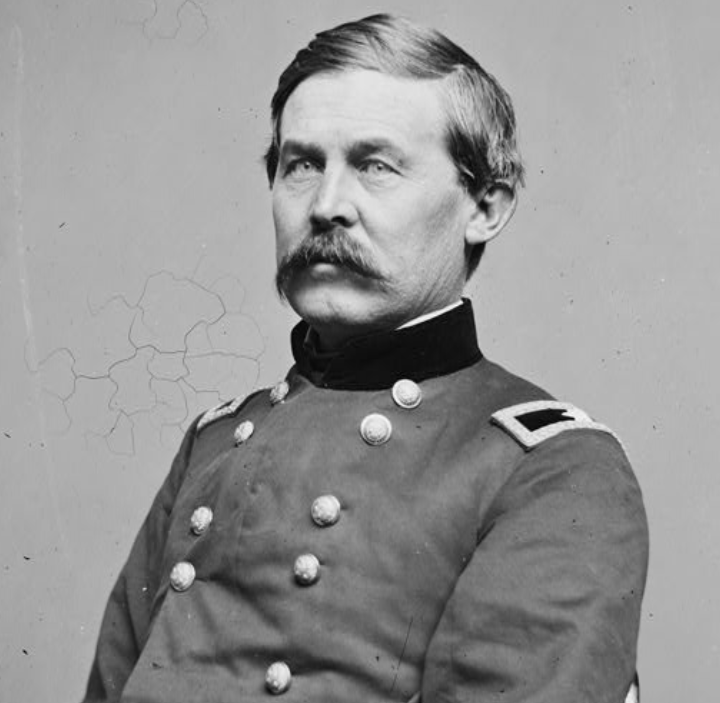 This article was written for the Adams County Historical Society during the 150-year Battle of Gettysburg anniversary and was published in the Gettysburg Times. We will be republishing several similar articles on the #15SouthBlog over the next few weeks.
---
Early on the morning of June 30, 1863, Union cavalry General John Buford (pictured) rode into the crossroads village of Gettysburg with two brigades of horseman numbering approximately 3000 troopers.  He was joyously received by the local citizens, who had less enthusiastically hosted Confederate General Jubal Early's infantry on June 26.  "Men, women and children crowded the sidewalks and vied with each in demonstrations of joyous welcome."  General Buford established his headquarters at the Eagle Hotel, the current site of a convenience store at Chambersburg and Washington Streets. 
West of Gettysburg, in Cashtown, General A.P. Hill positioned his Confederate infantry corps.  Generally, cavalry preceded infantry on scouting missions, but in this instance, General J.E.B. Stuart's cavalry was elsewhere. Therefore, J. Johnston Pettigrew's brigade of approximately 2700 North Carolinians had to conduct a scouting mission towards Gettysburg on the Chambersburg Pike.  Pettigrew's commander, General Henry Heth, had warned him that the town might be defended by a "home guard", which he would have no trouble driving off.  However, should he meet troops capable of resistance he was "not to bring on an engagement".   
Riding west from Gettysburg on the morning of June 30, Dr. John William Crapster O'Neal was on his way to make a sick call on the Chambersburg Pike.  Born in Virginia, Dr. O'Neal was the Adams County Medical Director.  He was the supervisor of the county almshouse north of town and the county jail on High Street.  Pettigrew halted Dr. O'Neal and demanded that he show the General his medical equipment.  Pettigrew initially allowed Dr. O'Neal to pass, but quickly detained him again, this time to question him about the presence of any Union troops in the town.  Dr. O'Neal told Pettigrew he had seen none.   
Dr. O'Neal accompanied the Confederate troops towards Gettysburg.  At this time, Pettigrew spotted mounted men, Union cavalry, on a ridgeline between them and the town.  Dr. O'Neal nervously defended himself to Pettigrew, denying he had seen these troops when he left town that morning.   
Pettigrew observed Buford's cavalry from afar and, heeding his superior's orders, withdrew to Marsh Creek.  Meeting with Generals Heth and Hill, Pettigrew reported his observations.  But General Hill's latest intelligence indicated the Union Army was still in Maryland and that Pettigrew had merely seen scouts – "probably a detachment of observation."  General Heth agreed with General Hill and asked Hill if he would have any objection to Heth taking his entire division back to Gettysburg the next day, July 1.  "None in the world," replied Hill. 
Pettigrew was uneasy with this decision, as he was confident he had seen mounted Union troops.  If cavalry were present, Union infantry likely were within supporting distance.  And in fact, Union infantry was 6 miles away in Emmitsburg, Maryland. 
Thus the stage was set for the largest, bloodiest, and most well-known battle of the Civil War to begin the next morning, July 1. 
---