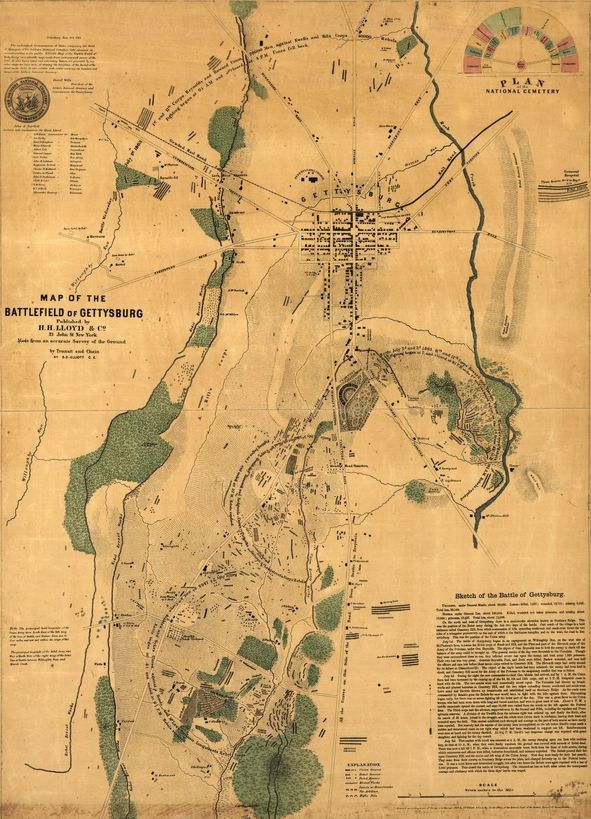 The gruesome task of exhuming and reinterring thousands of bodies on the Gettysburg Battlefield was undoubtedly made easier by early efforts to locate and document the temporary burial places of soldiers on both sides. To modern historians, the most widely known of these efforts is the survey allegedly conducted by "S. G. Elliott," engraved and published in 1864. The map, which delineates 8,352 individual burial locations and 345 dead horses, was for many years out of circulation, ultimately reappearing in the collections of the Library of Congress during the 1930s. According to Civil War historian William A. Frassanito, the Elliott map represents the first professional post-battle survey of the field. And while it has been used in hundreds, if not thousands, of books, articles, and Gettysburg studies, very little has been written about its origins.1 Even less has been said about the man whose name it bears: Simon G. Elliott.
The author is unaware of any previous work that identifies "S.G. Elliott" in connection with Gettysburg. This may be attributed to the absence of period references, particularly in local newspapers, to Elliott's presence in Gettysburg during the map's creation. This is odd given that the map appears to have been commissioned by Gettysburg's own David Wills and other representatives of the newly established Soldiers' National Cemetery Commission in 1864.2 Adding confusion to the story is the fact that Elliott could not have been in Gettysburg until, at the earliest, late January of 1864 when a majority of Union dead had already been moved to the new cemetery. Thus, the map reflects a landscape that no longer existed for Elliott when he reached Gettysburg. Because of this, it is evident that Elliott's map does not reflect his own fieldwork, but is instead based on an earlier survey, or surveys, conducted by associates of Wills.
Burial of the Dead
Before exploring Elliott's life and complicated legacy, let us first consider the series of events that preceded his arrival in Gettysburg. In the days and weeks immediately following the battle, the task of "cleaning up" fell almost solely upon Adams County residents. When the two armies vacated the area, thousands of dead soldiers had been left in hastily dug graves. Hundreds of horse carcasses were gathered together and burned. The ghastly sights and smells in and around Gettysburg were nearly unbearable. Yet, in the midst of unimaginable chaos, town leaders like David Wills wasted no time in establishing a plan to both heal the community and honor the dead. Within ten days of the withdrawal of Union forces from Gettysburg, Wills was already in correspondence with Pennsylvania Governor Andrew Curtin. And by July 16, less than two weeks after the close of the battle, it was reported that "a map has been made of the battle-field, which shows the exact locality of every grave."3 Quite an impressive feat.
As plans developed for the establishment of a Soldiers' National Cemetery at Gettysburg, Wills and Curtin continued to correspond, with both men citing that additional steps had been taken to document the field and existing hospital sites: "maps, and lists of wounded and sick, with their localities, have been prepared, and a great deal of important information can be had at the office of Mr. Wills.4" A July 22 article noted that Wills was "getting up a minute map of the battle ground, showing the position of all the hospitals and places where the wounded are, [and] of all the marked graves, which will be of great service to those seeking their friends or their remains."5
By late-October, dedication plans for the new cemetery were well underway and remains were beginning to be reinterred. Wills had initially hoped to dedicate the cemetery on October 22, but keynote speaker Edward Everett needed additional time and proposed November 19. Everett wanted to wait until a significant number of bodies had been placed in the new cemetery, stating that "all references to their self-sacrificing bravery in the cause of their country would be far more effective uttered over their remains." Thus, "a large portion of the bodies" were reportedly moved prior to November 19 when Everett and, more famously, President Abraham Lincoln, made their dedicatory remarks.6
By early 1864, the majority of reburials in the new Soldiers' National Cemetery had been carried out, and the entire project was completed on March 18, 18647. Sadly, the initial surveys used for documenting, locating, and removing bodies from their temporary graves on the field have not been found and may no longer exist. They do, however, appear to have been used by Elliott in 1864 since he could not have collected the data himself.
Finding S.G. Elliott
The identity of S.G. Elliott as California engineer Simon Green Elliott is based on two sources. The first is an August 1, 1864, Philadelphia Press article, which states that "a good, we might say the only reliable, map of 'The Battlefield of Gettysburg' is that made by S.G. Elliott, of California, who, while visiting this State, was induced, by many personal friends, to make an accurate survey of the ground by transit and chain."8
The second source for Elliott's identity comes from an article in Marysville, California's Daily Appeal of July 20, 1864:
S. G. Elliott, Chief Engineer of the California and Oregon Railroad, says the Flag, visited the battlefield of Gettysburg, as a matter of curiosity, and it occurred to him that an accurate map of that historical ground would be a source of public interest, and following up this idea, made a survey and map which he has just had engraved in Philadelphia. This map shows the location of the Union and rebel breastworks, where the batteries were placed, and also locates all the graves of the killed in that fearful encounter. This latter feature is something new in map making, and it shows the intensity and deadliness of the struggle at the various points as the killed of both sides were buried on the spot where they fell. On examination the map becomes an absorbing interest, and it is invaluable as a record of those three days' battles, and preserves for all future time, the vivid outlines and features of that sanguinary struggle, where the life of the American Republic hung for days suspended in the balances of a doubtful issue. The map will soon be for sale in California.9
Who was Simon G. Elliott?
Simon Green Elliott was born March 27, 1828, in Pittsfield, New Hampshire. One of at least nine children, Simon was the son of Joseph Elliott, a farmer, and Betsey Seavey.10 In 1855, at the age of 27, Simon made the long journey to California where he would reside permanently for roughly the next decade. Inspired by the 1849 gold rush and "in search of a fortune," Simon settled in Beal's Bar, a prominent gold mining camp near the American River.11
In 1856, Elliott began his public career as a surveyor. However, according to journalist Henry Villard, he had "nothing but an ordinary school education." But Elliott's skills were enough to warrant his appointment as Road Supervisor. The following year, Elliott ran for and won the position of Placer County Surveyor.12
In 1859, Elliott was hired to survey the county boundaries between Sutter, Sacramento, and Placer counties. The following year, he conducted a much larger survey for executives of the Sacramento, Placer and Nevada Railroad Company. Elliott was to find a suitable rail route between Northern California and Nevada. After completing his travels, he had a map engraved and published with his name prominently displayed in bold cursive script. Thus began Elliott's foray into the dealings of the railroad industry, a path that would ultimately lead his career into crisis. 13
By summer of 1863, plans were underway for a new, more ambitious railroad project in Northern California. The "Oregon and California Railroad Company" met on June 2 to elect officers, choosing S. G. Elliott as its chief engineer. The new line would connect Marysville, California to Portland, Oregon, a distance of 641 miles. The cost for the project was initially estimated at a massive "$30,000,000, or about $50,000 per mile."14
In the weeks that followed, Elliott, his crew, and Oregon civil engineer George A. Belding began their trek northward. By all accounts, the survey began without any troubles, but after crossing into Oregon, a dispute emerged between Elliott and Belding: "Belding disagreed as to which of them should have control of the line of survey through Oregon; Mr. Belding claiming that under their agreement he should select the route, and Mr. Elliot as stoutly claiming that as chief of the party and the original proposer of the undertaking he was entitled to such control." To make matters worse, the entire operation was out of money and the crew had not been paid in six months. Desperate and frustrated, Elliott "left the party in possession of all its equipment and returned south to California" without completing the survey.15 Here, it appears, began Elliott's long career of public deception. On November 20, 1863, one day after Lincoln's Gettysburg Address, Elliott reported to local papers that "the party…completed its work," and was prepared to travel to Washington on behalf of the California and Oregon Railroad Company to lay "the claims and merits of the enterprise before Congress, [solicit] grants of land, right of way, and such other aid as Congress may see fit to bestow."16
On December 9, the Marysville Daily Appeal announced that "S. G. Elliott, Engineer of the California and Oregon Railroad, left for San Francisco yesterday morning…[he] will sail on the steamer of the 13th, for the purpose of laying his report and maps before Congress… every individual interested in the success of Northern California will be pleased to learn that this gentleman goes East on a commission intended to speed the development of internal improvements in this section of the State."17
With a multi-million-dollar project hanging in the balance, Elliott began his voyage from San Francisco to Panama, then by train to the Caribbean where he boarded a second ship – the Ariel – bound for the east coast. On January 18, after about a month of travel, Elliott arrived in New York City and made the final leg of the journey to Washington.18
During much of February 1864, Elliott reportedly met with elected officials in Washington on behalf of the California and Oregon Railroad. In a letter penned on February 26, he informed his superiors in California that "the Railroad Bill before Congress looks decidedly favorable. Mr Cole19 says it will pass the House; I think there is little doubt about its passing the Senate…. There is desire to aid California in enterprises by members of Congress in any way consistent with the present financial condition of the Treasury." In character with Elliott's prior fiscal behavior, he included in his letter a plea for additional funds: "he represents himself to be very much in need of money, having relied entirely upon the subscriptions for means to meet his expenses while urging this matter before Congress."20
The Congressional Session ended in failure for Elliott on July 4, 1864. In an effort to justify his actions, he informed California newspapers that "The bill would have passed both houses, but for the great accumulation of business towards the end of the session…prevented it from being reached." California's Shasta Courier gave mild praise to Elliott for his determined efforts which were "worthy of record, at least."21
It is unclear why exactly the railroad bill failed. It may have been a combination of factors, with possible explanations including political pressure associated with an upcoming presidential election, the raging Civil War, and perhaps a lackluster performance by Elliott, whose survey of the proposed rail line was incomplete, or worse, fraudulent. 
The Elliott Maps
Elliott undoubtedly produced a detailed survey of the Gettysburg Battlefield during his time in Washington. As previously stated, two articles about Elliott's creation of the Gettysburg map have been found to date. The Philadelphia article, dated August 1, 1864, states that he "was induced, by many personal friends" to conduct a survey of the battlefield.22 His hometown paper in California, the Marysville Daily Appeal, presents a somewhat different account, noting that he "visited the battlefield of Gettysburg, as a matter of curiosity, and it occurred to him that an accurate map of that historical ground would be a source of public interest."23 Given Elliott's desperate financial situation, it makes more sense that he was either approached by, or offered his services to David Wills, perhaps through Wills' connections in Washington with prominent Republican leaders like House Clerk Edward McPherson.24
Regardless of the circumstances behind Elliott's creation of the map, it is clear that the project was completed prior to June 10, 1864. On that date, David Wills affixed his name and a short statement to the final product:
The undersigned Commissioners of States composing the Bord [sic] of Managers of the Soldiers National Cemetery take pleasure in recommending to the public "Elliott's Map of the Battle Field of Gettysburg" as a reliable map, made from instrumental survey of the field. It also has a novel and interesting feature, not presented by any other maps we have seen, of showing the localities of the burial of the dead on the field. It also exhibits with entire accuracy the location and design of the Soldiers National Cemetery.25
The names of Commissioners from 16 additional states are listed below the statement, with a seal of incorporation for the new "Soldiers National Cemetery." In faint print on the reverse of an original Library of Congress copy is written in ink "Deposited June 21, 1864 by S. G. Elliott & Co Proprs."26
Several important questions remain unanswered about the timing, purpose, and contents of the final map, titled "Elliott's Map of the Battlefield of Gettysburg Pennsylvania. Made from an accurate Survey of the Ground by Transit and Chain." Perhaps David Wills sought to impress upon the public the monumental task the Commission had accomplished in moving thousands of bodies from improper graves to the new Soldiers' National Cemetery. Or, perhaps Elliott sought to capitalize on the national interest Gettysburg was receiving and convinced Wills to publicly endorse his work. If Wills sought lasting financial support for the cemetery, he may have seen Elliott as a vehicle to spread the news about Gettysburg's new cemetery - a win-win. Regardless, it is clear that the map was made for commercial purposes and not intended to be used as a tool to locate individual graves on the battlefield. In fact, out of over 8,000 graves notated, Elliott identified just seventeen by name.27
Another inconsistency on the map is the labeling of farms on the battlefield. In places, it appears that the map copies elements from the 1857-58 Adams County survey. But in other areas, unique names are listed that cannot be found on any other period maps. For instance, the Elliott Map is the only survey to identify the Watts farm near what is now the Longstreet Tower on Confederate Avenue28. Furthermore, Elliott labels the John Slyder farm as "J. Bollinger," undoubtedly a tenant farmer who occupied the property in late 1863 or early 1864 after the Slyder family moved west29. Perhaps certain features, including farms and, of course, the new National Cemetery, were added by Elliott to reflect the current state of the battlefield in early 1864. But why, then, would Elliott also show dead horses scattered around the battlefield? The best explanation seems to be that Elliott viewed the project as commercial rather than utilitarian - graves and horses would sell; a blank map with roads and farms would not.
The Elliott map is known to have been sold in Philadelphia at the 1864 Sanitary Fair, and in New York City by H. H. Lloyd, a well-known print and map dealer. It appears that all copies  are based on the original printing by F. Bourguin & Co., lithographers, in Philadelphia. According to one article, it was also to be sold in California, but no advertisement has yet been found in western papers. Surprisingly, very few copies appear to exist in archival collections today. Two original published copies can be found in the Library of Congress and one, perhaps an original pre-published version, is preserved at the National Archives.30
Recently, a second "S. G. Elliott" map depicting the battlefield of Antietam was digitized and made available by the New York Public Library. The survey, undoubtedly created in 1864 during Elliott's time in Washington, bears striking resemblance to his Gettysburg work.  The same key features and colorization are employed, and Elliott used the same publisher: H. H. Lloyd, in New York. However, there are two main differences between the Gettysburg and Antietam maps. First, the Gettysburg map shows dead horses scattered around the battlefield. At Antietam, the horses are shown in clumps, having been dragged to specific locations and buried or burned. Second, the Antietam map identifies by name far more individual burials than on the Gettysburg survey. Because Antietam's dead were not relocated to a cemetery until after Elliott's work in 1864, perhaps he had greater access to prior surveys documenting the many temporary markers and headboards still in the field. But regardless of his methodology, the larger mystery seems to be why these maps - especially that of Antietam - do not appear to have been widely sold or marketed. 1864 advertisements placed by H. H. Lloyd in New York newspapers list specific items available for purchase, but make no reference to either of Elliott's maps. Further examination by historians of the Antietam survey may help to address some of these historical uncertainties.31
After Gettysburg
Whether or not Elliott's lobbying on behalf of the California and Oregon Railroad in Washington was negatively impacted by his time spent on the Gettysburg and Antietam projects is not known. But Elliott may also have been distracted by his courtship and subsequent marriage to Cornlia Blanchard of Waymouth, Massachusetts. The two wed on March 7, 1865 in the bride's hometown. Why Elliott stayed on the east coast through March is unclear, and his reports to California between October 1864 and April 1865 are few and far between. Eventually, on April 28, 1865, California newspapers reported that Elliott had arrived in San Francisco the preceding day. However, census records indicate that he spent the next several years traveling back and forth between California and his home in Massachusetts. Between 1866 and 1874, Cornelia gave birth to at least four children.32
The final chapter in the business career of S.G. Elliott is detailed in scores of newspaper articles, mostly in California and Oregon. However, a concise summary can be found in the writings of American journalist Henry Villard. Villard picks up with Elliott in 1866, two years after his failed lobbying efforts in Washington:
J.S. Smith, who also had knowledge of the California & Oregon Company... met S. G. Elliott early in April 1867 in San Francisco. They discussed the railroad outlook in Oregon, and, as Elliott spoke very confidently of his business connections and ability to control capital for carrying out a construction project . . . . Smith urged him to go to Oregon . . . . Elliott then conceived one of the boldest swindling schemes ever concocted in furtherance of the object of his journey. He provided himself with a power of attorney from one Albert J. Cook, whom he represented to be a member of a wealthy firm of railroad contractors in Massachusetts. . . . In the course of the litigation which in subsequent years grew out of Elliott's doings in Oregon, he was repeatedly called on to prove that Cook was not a fictitious person, but never could produce convincing evidence of Cook's actual existence. . . . Elliott proceeded to Oregon and met I. R. Moores, John H. Moores, S. A. Clarke, George L. Woods, the governor of the state, and others. He told them all of the high standing of the alleged Cook firm as railroad contractors and of their abundant financial resources, after introducing himself as their representative . . . He himself pretended to be a railroad engineer of much experience.33
Shortly thereafter, Elliott was able to convince the investors to join him in a new partnership: "The Oregon Central Railroad Company of Salem." Again mismanaging funds and misrepresenting financial backings in California, Elliott ran the company into the ground and was ultimately rescued by well-known Oregon railroad executive Benjamin Holladay. Together with a third partner, Holladay slowly pushed Elliott out the door and had him fired, a decision that Elliott sued Holladay for making. After an extensive legal battle, Elliott left California and faded into obscurity at his Massachusetts home. He died there at age 69 of heart disease on September 19, 1897.34
Only portions of the saga of S.G. Elliott are relevant to the study of the early Gettysburg Battlefield. But Elliott's colorful background calls into question the credibility of his work in 1864 at the battlefields of Gettysburg and Antietam. He was nowhere near Gettysburg when critical information about burial locations was being gathered and recorded by David Wills and his associates. At Antietam, further investigation is necessary to determine what exactly his role might have been. But Elliott does deserve credit for presenting this unique information and having it published. It may well be the closest historians come to understanding the physical aftermath of America's costliest battles.
---
Works Cited
1. William A. Frassanito, Early Photography at Gettysburg (1995), p. 13. 
2.  "Elliott's Map of the Battlefield of Gettysburg, Pennsylvania," Library of Congress (hereafter cited as Elliott Map, LOC).
3.  Item in The Press (Philadelphia),  July 17, 1863. Other early efforts to document temporary burial information were made by Dr. J.W.C. O'Neal (original notebooks at the Adams County Historical Society) and J. G. Frey (photocopy available at the Gettysburg National Military Park Library). 
4. Item in The Globe, (Huntingdon, Pennsylvania), July 29, 1863. 
5. Item in The Press, July 22, 1863. 
6. Ibid, October 7, 1863.
7. Frassanito, Early Photography, p. 13. 
8. "Gettysburg Battle Ground," The Press, August 1, 1864. 
9. "A California Enterprise," Daily Appeal (Marysville, California), July 20, 1864. 
10. New Hampshire Marriage and Divorce Records, Ancestry.com; 1820, 1840, 1850 United States Federal Census Records, Pittsfield, New Hampshire, Ancestry.com; Massachusetts Mason Membership Cards, Ancestry.com.
11. The Early History of Transportation In Oregon, Henry Villard and Oswald Garrison Villard, 1944, p. 1; Item in The Placer Herald (Rocklin, California), May 31, 1856.
12. Ibid, February 14, 1857; Ibid, August 10, 1857; Ibid, January 23, 1858. The Sacramento Bee, August 10, 1857; Villard, Early History, p. 1. 
13. Item in The Placer Herald, February 12, 1859; Ibid, December 25, 1860; Ibid, May 12, 1860. 
14. Item in Daily Alta California,  November 27, 1863. 
15. Joseph Gaston, "The Genesis of the Oregon Railroad System," The Quarterly of the Oregon Historical Society (June, 1906), pp. 106-109.
16. Item in Marysville Daily Appeal, November 20, 1863. 
17. Ibid, December 9, 1863. 
18. "Passengers Arrived," New York Daily Tribune, January 18, 1864. 
19. Cornelius Cole (1822-1924) served as U.S. Representative from California's at-large district from 1863-1865. 
20. Item in Marysville Daily Appeal, March 17, 1864; Item in Shasta Courier, April 2, 1864. 
21. Item in Shasta Courier, October 29, 1864. 
22. "Gettysburg Battle Ground," The Press, August 1, 1864. 
23.  "A California Enterprise," Marysville Daily Appeal, July 20, 1864. 
24. Wills and McPherson had attended Pennsylvania College (now Gettysburg College) at the same time, and both had studied law under Thaddeus Stevens, a prominent member of Congress at the time. 
25. Elliott Map, LOC.
26. Ibid   
27. Marked graves include thirteen Confederate soldiers and four Union. Of the thirteen Confederate graves, for whatever reason, seven are from Georgia units.
28. The Watts family, free people of color, had moved to the area from Maryland prior to the Civil War. It is not known if they lived on or rented this property during the battle. The farm is shown on the 1863 Bachelder Isometric Map, but without a label. 
29. See John Slyder Farm File, Gettysburg National Military Park Library. 
30. Elliott Map, LOC; "A California Enterprise," Marysville Daily Appeal, July 20, 1864; "New Map of Gettysburg," The Evening Telegraph (Harrisburg), July 29, 1864; The National Archives copy in Washington is in two segments and appears to be an earlier version made prior to distribution. An additional copy is listed among the holdings of the National Library of Australia in Canberra. 
31."Map of the Battlefield of Antietam," New York Public Library Digital Collections. The map was discovered and brought to the author's attention by historian Timothy H. Smith during the preparation of this article.  
32. Massachusetts Town and Vital Records, Ancestry.com; 1870 and 1880 United States Federal Census Records, Weymouth, Massachusetts; Item in The Sacramento Daily Union, April 28, 1865. 
33. Villard, pp. 3-4. 
34. Ibid, pp. 13-23; Massachusetts Death Records, Ancestry.com.
---
Author Bio
Andrew Dalton has been with ACHS in various roles since 2011 and is a 2019 graduate of Gettysburg College with a degree in History and Political Science. While at Gettysburg he received project funding from the Andrew W. Mellon Foundation and created two digital history projects relating to the development of the college and the history of Gettysburg's Lincoln Cemetery. He's also the author of a book, Beyond the Run: The Emanuel Harmon Farm at Gettysburg, and several journal articles and columns in local and statewide newspapers. He is a frequent presenter and guest on the American Battlefield Trust's Facebook Live series and a member of the Association of Fundraising Professionals. He currently resides in Cumberland Township.
---