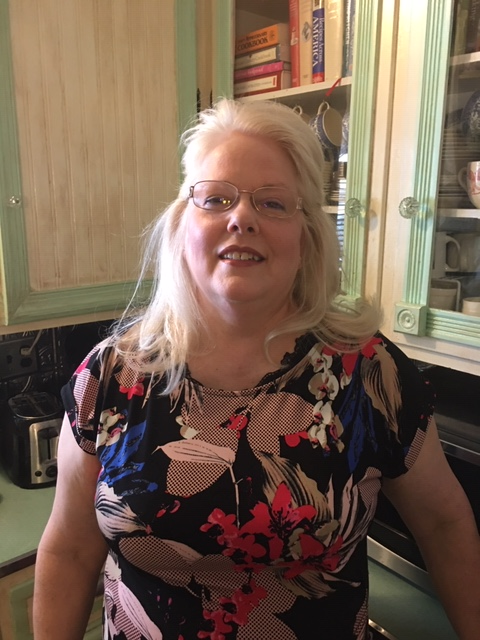 Kim Sieck has been living in Adams county for over 17 years, Kim has many hobbies including
cooking and baking, caring for animals, and restoring her 1846 home. With a lifelong passion for
history, this was the spark that ignited Kim's passion for volunteering at Adams County
Historical Society. She remembers listening to the stories of older people from her life as a child.
In school, Kim noted that her favorite subject was history. With such an extensive passion and
appreciation for history, there is no doubt that Kim brings an exciting energy to the volunteers at
ACHS.

On her first visit to ACHS, she was curious about the background of her home. The friendliness
and help she received that day was the most noteworthy for her, encouraging her to join as a
member and eventually join the volunteer staff in November of 2019. On the volunteer staff,
Kim found other individuals like her that were equally as passionate about history as she was.
This community brought fresh energy into Kim's life. She also notes that one of the reasons that
contribute to her passion for volunteering is the personal responsibility of preserving history for
future generations. In my brief discussion with her, she mentioned that she believes that it is
important for young people to have an appreciation for the history that impacts them, even if
they do not recognize it.

Since November, Kim has been working on organizing folders of permits from Evergreen
Cemetery, the cemetery in Gettysburg that saw live action during the Battle of Gettysburg, as
well as being responsible for hosting Jennie Wade's final resting place. Kim works to catalog
from copies of the original book held at the cemetery. Many of these documents are faded and
can be difficult to read but contain interesting history that is important to preserve. Kim compiles
source documents from newspapers to confirm the information in the permits. She has compiled
these documents into an online database for later access by the public. This work covers about 10
years of history.

Kim said that working with the whole staff at ACHS is such a joy and encourages her to keep
working. ACHS works to preserve the whole history of the county, not just history pertaining to
the Civil War. The passion of the volunteers at the Historical Society keep the energy alive.