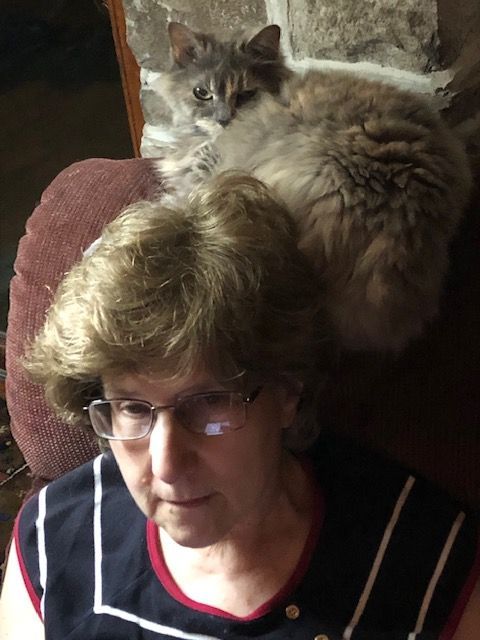 Volunteer Bonnie Richardson has been living in the Buchanan Valley with her husband since 2005. In her free time, other than volunteering at ACHS, Bonnie enjoys caring for her two pets, Mac and Shadow. Many of Bonnie's other hobbies pertain to history, including being a member of the Torch Club, where she frequently delivers speeches at local events throughout the year. This has, of course, changed since the COVID-19 pandemic, but Bonnie is still active within the organization, delivering modified online versions of these speeches.
Bonnie has a long family history of being active in local historical groups, her mother was an active member of the historical society in Berks County, PA, who later inspired Bonnie to join ACHS after her retirement. Through her participation in ACHS, Bonnie mentions the wonderful friends she has met through volunteering at the Society. By learning at ACHS, she mentions that these resources have become some of the most valuable when writing and delivering her Torch Club speeches. With her excellent public speaking portfolio, Bonnie also helps to present programs at monthly ACHS meetings, recently adding a Zoom presentation to her resume.
If you were to walk into ACHS as a visitor, Bonnie may have been one of the volunteers that has assisted you. One of her main jobs at ACHS is to help direct visitors to find what they need, whether that be resources or individuals. Bonnie enjoys connecting with the visitors in this way, mentioning that this is a fulfilling part of her job at ACHS.
As a people person, Bonnie enjoys connecting with visitors and fellow volunteers. She feels as though, as a group, they are contributing to fulfilling the mission of ACHS. Bonnie and all of the volunteer staff at ACHS keep the energy alive in order to preserve the valuable history of Adams county.