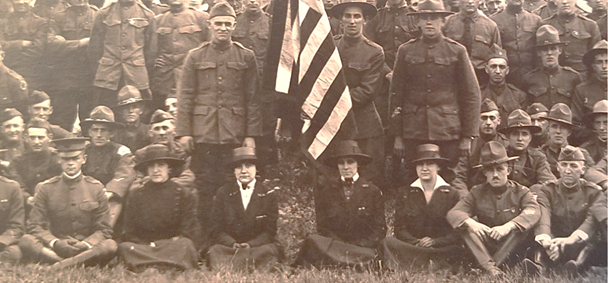 Image description: Welcome Home Day (September 1, 1919) for WWI veterans shows nurses Beulah Armor, Pauline Sherman, Esther Tipton, and Nelle Bream) seated in the center of the group photo that included 500 veterans who participated in the day-long celebration in Gettysburg.
During World War I, many women in the U.S. volunteered to serve as military nurses, and by war's end more than 22,000 American nurses had served our country.
Fourteen of those dedicated ladies called Adams County home. To join the nursing service,, they had to meet strict requirements, be willing to sign on for a minimum of one year, and to have graduated from accredited nursing programs with a minimum of two years' residency.
Ten Adams County nurses would be sent abroad, working in field hospitals and base hospitals in France and Germany. Four Adams County nurses remained stateside, serving in military camps.
We will salute the WWI service of Beulah Armor, Nelle Bream, Cora Swartz, and Esther Tipton (all 4 from Gettysburg); Helen Bunty, Mary Edna Kieffer, and Malissa McElheney (from McSherrystown); Mary Grove (from Straban Township); Edna Morrison and Bessie Annie Sheely (Bendersville); Pauline Sherman (Littlestown); Agnes Smith (New Oxford); Mary Wagner (Table Rock); and Kate Wolf (Cashtown).
You can learn the stories of these medical heroes of World War I on March 11 at 7:00 pm in a Facebook program.