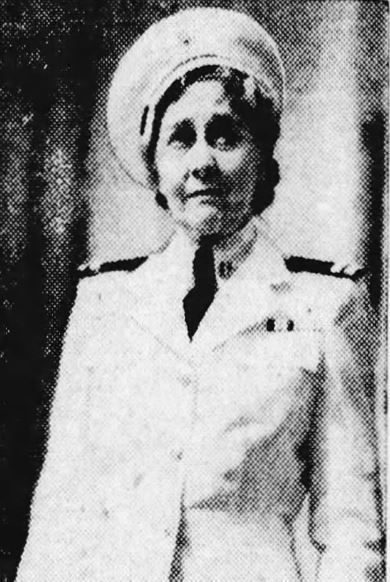 We salute Commander Helen M. Bunty, a Navy nurse in two world wars. A native of Adams County, she devoted her life to service with the military. She was, at the time of her retirement, the second-highest ranking Navy nurse. And her career held many highlights. This from June 1942 article in the Hanover Evening Sun, reported her ability to work through governmental red tape to get things done.
GETS TRIM ATTIRE FOR NAVY NURSES
New Uniform is Personal Triumph For Miss Helen M. Bunty, Native Of McSherrystown, Article Points Out
"The Blanche Krause article in the Philadelphia Bulletin...gives the following account of the former McSherrystown resident's fight to replace the outmoded uniform worn by nurses during the First World War.
She's a mere four feet, 10½ inches tall, but Miss Helen M. Bunty makes up in energy and enthusiasm what she lacks in height.
Superintendent of Nurses at the U. S. Naval Hospital of Philadelphia, Miss Bunty is responsible for the Philadelphia (and world, incidentally) premiere of that slick uniform for Navy nurses...
She's hazel-eyed and soft-voiced…and a conviction that 'Any problem can be solved, if you just find the right approach…'
Specifications for the Navy nurse's uniform were originated in February by the Bureau of Medicine and Surgery in Washington, to replace the out-moded World War I uniform.
But after that the project languished, bogged down by the production problem…
'The Navy nurses are entitled to the respect which the uniform rates; the work they do is certainly worthy of a uniform. And I was anxious that the uniforms be ready before any of our Naval Hospital nurses were sent to duties elsewhere…'
Miss Bunty went to Washington to confer with Miss Sue S. Dauser, superintendent of the Navy Nurse Corps…and there Miss Bunty was delegated to negotiate with firms about making the uniforms.
'That,' Miss Bunty says, 'meant a trip to New York and a search for a uniform maker willing to undertake the first uniform...
'Through a misunderstanding, what was to have been my own uniform was delivered to a store…So I tried a Philadelphia women's shop, and they agreed to have a sample uniform cut for us. Now at last, several of the summer uniforms have been delivered and others are being made rapidly.' "
Learn about more WWI nurses from Adams County in a presentation on March 11 at 7:00 pm on Facebook.