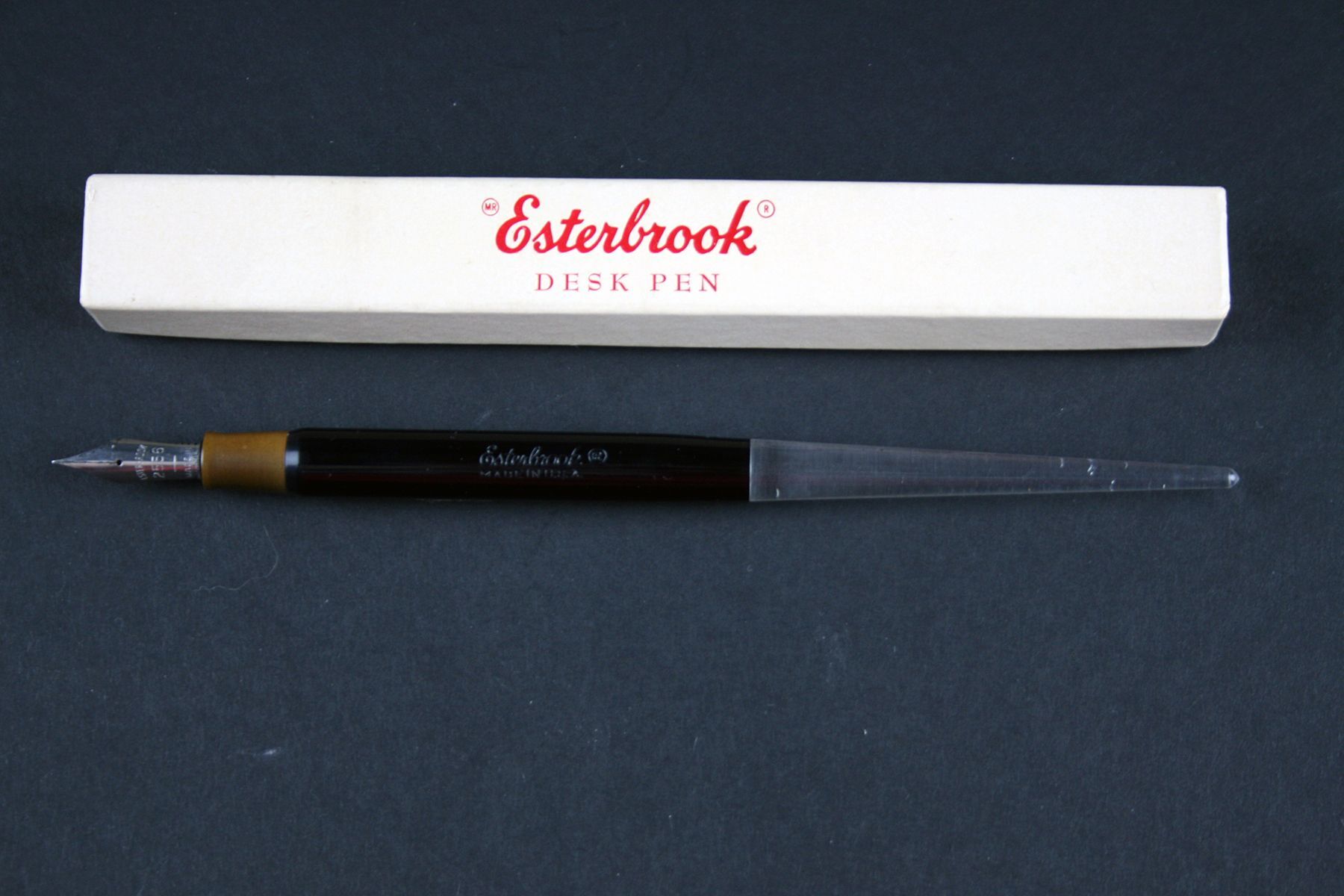 This blog post is part of our Artifact Spotlight Series, written by students at Gettysburg College. The Artifact Spotlight Series features artifacts from the Adams County Historical Society's new museum, Gettysburg Beyond the Battle, opening on April 15, 2023. Today's Artifact Spotlight was written by Gettysburg College sophomore history major Sam Lavine.
---
In 1858, Richard Esterbrook established the Esterbrook Pen Company in Camden, New Jersey. Nearly a century later, one of the company's desk pens, a model that still required the use of an ink well, helped make history here in Adams County.
On February 2, 1956, Dwight D. Eisenhower, the 34th President of the United States, and his wife, Mamie, used this pen to register to vote at the Adams County Courthouse. Voting was a duty that the Eisenhowers took very seriously. Throughout Ike's time in the US Army, he never voted in presidential elections because he believed it was a soldier's duty to be apolitical as the President is the Commander-in-Chief of the United States military. He registered to vote in 1949 while serving as president of Columbia University, but the Eisenhowers' 1956 decision to register in Adams County is symbolic of their choice to make Gettysburg their permanent home after 40 years of near-constant moving during Ike's military service.
Throughout his presidency, Ike spent 365 days at his Gettysburg farm located on the edge of Gettysburg National Military Park. At the farm, Eisenhower regularly hosted foreign dignitaries such as Winston Churchill and in his retirement became involved at Gettysburg College. The right to vote is fundamental to American democracy, and the Esterbrook desk pen you see in front of you was an instrument that allowed Ike and Mamie Eisenhower to become part of a great American tradition.
---
Sources:
"Brand History." n.d. Esterbrook Pens. Accessed October 2, 2022. https://www.esterbrookpens.com/pages/brand-history
eFootage. n.d. "IKE & MAMIE REGISTER to VOTE-Film & Video Stock." EFootage. Accessed October 2,2022.https://www.efootage.com/videos/74241/ike-mamie-register-vote.
Winger, Richard.Ballot Access News, March 4, 2016.http://ballot-access.org/2016/03/04/dwight-eisenhower-was-not-a-registered-republican-when-he-was-nominated-for-president-the-first-time/